About Our Team
Bugs are creepy; your service professional should not be.
Your Service Professionals
Aspen's service pros are friendly, clean cut, and honest.  They've all been fully vetted through a criminal background check, drug testing, and in depth screening processes.  The first thing we look for in a new team member is an individual with good values.  We've learned that when we hold out and hire really good people, our customers have remarkably good experiences with our service.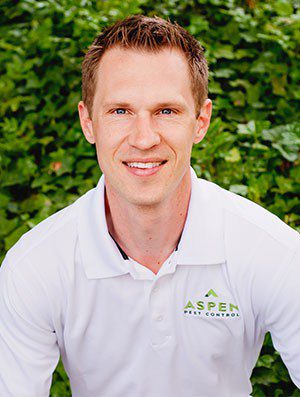 Joseph H.
Founder & President
Aspen's founder and president started his pest control career over ten years ago. Joseph got his start with a Fortune 500 pest control company and learned the pest control business and service from the ground up. He saw many good things in the company he worked for but also observed certain things he felt he could do differently to create a better overall experience for his customers. No matter how successful Aspen Pest Control becomes, Joseph will never lose sight of his highest priority which is to always put the customer first. In his free time Joseph likes mountain biking and snowboarding. Most of all he enjoys spending his time with his incredible wife and kids.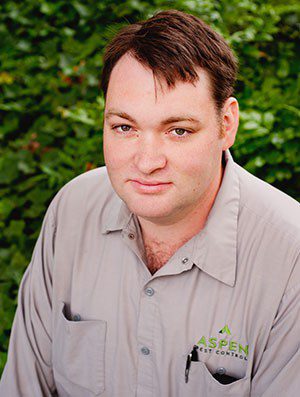 Daron M.
Lead Technician
Although Daron was born in the U.S., he mostly grew up in Suffolk, England. There he worked as the owner of a small tree care business. He moved back to the U.S. several years ago to be closer to his family. Daron is Aspen's lead technician. He's passionate about being on the cutting edge of the pest management industry. Aspen is currently helping Daron pursue an environmental science degree with a minor in entomology at Washington State University.  Daron has a love of learning and enjoys reading books in his spare time.  He's known for his common sense and even keeled personality.
Daniel S.
Technician
Daniel is very mechanically inclined. He likes anything DIY including machines, robots, computers, and computer repair.
Daniel is also very easy going and quick to laugh. Customers are immediately at ease around him.
Lucky for us, he is one of the few humans in this world who enjoys going down in crawl spaces. He takes pride in his ability to inspect and treat even the tightest of sub floors.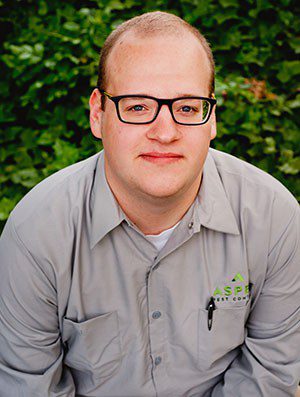 Alex G.
Technician
Alex has a personality that everyone loves. An optimist by nature, he always seems to be in a good mood. Customers consistently comment on what a nice guy Alex is. Alex enjoys challenging pest control projects and is a great problem solver.
When he's not at work, Alex is a passionate outdoorsman.  If he's not camping or hunting you'll probably find him working on his 4 x 4 Jeep.  

Joel R.
Technician
Joel began his pest control career in 2007. He has an inventive mind and can fix almost anything. He's a perfectionist by nature which customers love about him. His innovative abilities have led to a more effective overall service for Aspen's customers. Joel is particularly easy for people to work with and is happy to do whatever it takes to make a customer happy.
In his spare time Joel is always working on a new project. Whether making his own Halloween costume, or putting together a dazzling holiday light display, Joel is at his best when he's being creative.

Daniel H.
Technician
Daniel is one of Aspen's seasonal service professionals. He's been doing pest control since 2006 and is a big part of Aspen's organic growth. Daniel is incredibly bright. He's currently pursuing a degree in chemical engineering. Daniel is a natural conversationalist and truly enjoys his association with customers.
When he's not at work, Daniel enjoys watching movies, running with his dog, and spending time with his nieces and nephews.